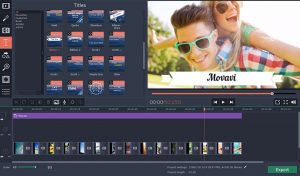 Simple as it may seem, adding subtitles to your videos can be powerful in many situations. Not only do subtitles provide a more professional sheen, but they also ensure that viewers have an alternative if they are unable to hear the voiceover or make out what it is saying.
If you want to add permanent subtitles to your MP4 video files, one of the best ways is with Movavi Video Editor. Using it you can add subtitles to MP4, and fully control their appearance – allowing you to get creative and make them look unique.
Assuming you already have the MP4 video that you want subtitled, just add it to Movavi Video Editor to get started. Once it appears in the 'Timeline' you can start to add subtitles to it by clicking on the 'Titles' tab that will be located on the left.
Within the 'Titles' tab you'll find a variety of basic or animated titles that you can choose from. Click on the icons to preview them in Movavi Video Editor, and when you decide on one just click and drag it to the 'Timeline' and position it at the point where you want it to appear.
To add the text in the subtitle, double-click the title in the 'Timeline' then double-click the sample text in the 'Preview' window and type in the text that you want. If you want you can then adjust the appearance of the text that you just added in Movavi Video Editor by using 'Clip properties' to set its duration, 'Font properties' to adjust its style, and 'Color properties' to control its color.
That should be all that you need to add subtitles to your MP4 video, but before you save it you may want to edit it further with the tools in Movavi Video Editor. Try applying special effects, cutting and joining video segments, enhancing the video quality, or even adding audio tracks if you feel it would improve your video. Make no mistake all these features are so easy to use that you won't have any trouble applying them and making your video look great.