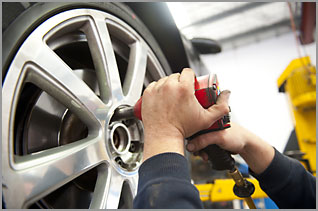 When browsing a car dealerships' website, you might come across an option that urges you to "click here" to start the process of procuring a loan for a new car. Although most dealerships have financing departments that can help you finance your new vehicle, some people proclaim that you should never use the dealership's financing option. They claim that you can get a better deal by going elsewhere. But, this is not always true. Given the right circumstances, you can get the best deal on a new car loan right from the dealership. Following is information to help you obtain the best financing possible, regardless of where it is from.
Shop around for Rates
The first place to start is by shopping around for the best interest rates from outside sources. If you have a favorite bank, go talk to a loan officer and see what the bank can do for you. If you have been a long-time customer with them, they might give you a preferred rate. Don't stop there, though. Check with other banks, credit unions, and even online lending companies. Get prequalified for a loan with one of these companies. If you decide to go with the dealership's financing, you don't have to use the prequalified offer.

Negotiate with the Dealership
Once you have a prequalified loan offer, you are prepared to negotiate with the dealership. Some prequalification loans offers give you the buying power of a cash deal. You know how much money you have to spend, and the sales rep knows that you don't have to jump through all the hoops to finalize the sale of your vehicle. All you have to do is sign the final papers.
After you have negotiated a sales price, then you can discuss the financing terms. Show the dealership your loan offer and ask if they can beat that offer. If they can beat the financing terms, go with the dealership's offer. When you complete their loan app and "click here" to finish the deal, you will do so knowing you have the best rate possible for your new car, truck, van, or SUV.
This is a guest post.